Design is in the details and picking a finish for the hardware in your home is key.
It can be the difference between the room "working" or feeling not quite right. So how do you choose the right finish? The fashion world touts hard and fast rules such as "Never wear stripes and plaid together!" or "No socks with sandals!", but there's no one-set of rules for choosing a finish in home design. That can make it one of the more challenging aspects of putting a room together.
For expert advice on the subject, we consulted the interior design team at DKOR Interiors in Miami, Florida.
"All of our projects start with the creation of a concept. The concept then relates from the big picture to the small details like the door design, baseboard design to even smaller carpentry pieces, like a nightstand. And something as detailed as the type of pull handle is crucial – is it functional while still maintaining the concept? So it's the little, important details that bring the concept to life."
Tip #1: Let the Room Guide You
"The first step is to take a look at the overall design of the space. Are we using flush doors? Are the doors white or painted a color? Once the general tone for the interior is set, we select the hardware model and finish based the aesthetic," stated DKOR Interiors.  While not a hard and fast rule, there is a general association between certain styles and finishes. Is your design contemporary or transitional? Rustic? Traditional?

Finishes with a white base coloring, such as satin nickel, polished nickel, and chrome, tend to be used in contemporary and transitional design work.

Yellow tones in a finish have a close association with traditional design themes. Brass and French antique finishes fit well in this style.
Don't forget about the texture of a finish! Is it shiny, brushed or sandcast? For example, a rustic design theme is based on natural materials with an unfettered look and feeling of warmth, thus a sandcast material would be a natural fit.
Tip #2: Don't be Afraid to Mix Finishes
"Recently in our project, A Contemporary Moody Home, we used a mixture of gold and silver finishes. The goal was to appease different age groups in the home and in turn, helped encourage the home's concept of a sleek and simple contemporary mood," stated DKOR Interiors. While mixing finishes requires a lot of planning, the payoff can be great. Choosing two different finishes for a room can create a very dynamic, bold look or it can give it an unassuming, lived in feel.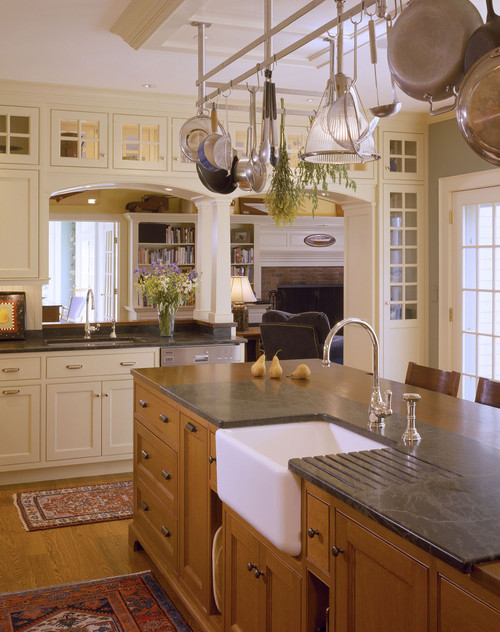 Tip #3: Make It Your Own
Look for inspiration everywhere and don't be afraid to throw the rules (or helpful tips) out the window to make the design your own. "We are constantly seeking to be inspired by unusual sources and hardware is certainly a very important detail in the final design. Accessories are often the pieces that pull a space together," DKOR Interiors.
At the end of the day, pick the finish that you like best. Choose what catches your eye and your design will always feel like home.
Join us on Social Media!
 
Look for our Advertisements in Architectural Digest, Elle Decor, and Luxe magazines.